Air fryer beef jerky is the best way to make beef jerky at home. Simple and straight-forward, tasty and nutritious. And the best part? No dehydrator required.
How to Make Beef Jerky in an Air Fryer
Beef jerky makes an awesome snack. It is delicious, healthy, low carb, and portable too!
Air frying makes amazing homemade beef jerky! The recipe is very simple and prep time is minimal, but it does take a bit of organization as you want to marinate the sliced beef overnight (or at least for a few hours) to allow the flavor to develop.
Ingredients
What Beef to use for Jerky
The best beef to make homemade jerky is something lean and flavorful.
Top round and bottom round steaks are ideal and what I normally use.
Because the cook time is very long and at a low temp, you can use a cheaper (tougher) cut of meat than if you wanted to quick roast it (a good quality tender cut is better used for an air fryer roast).
A tougher cut means chewier jerky. A tender beef cut will give softer melt-in-the-mouth jerky. So choose a cut of beef appropriate for the type of jerky you want to make.
Marinade
The marinade I use combines the rich smoky flavor of Worcestershire sauce, honey for sweetness (you can substitute brown sugar), and soy sauce and onion powder for a flavor punch!
You can substitute any other marinade you like or mix up the ingredients if you like. The basic recipe to air fry the jerky is the same.
Some other seasoning flavors to try are:
Teriyaki beef jerky: soy sauce, brown sugar, garlic powder, ground ginger
Smoked beef jerky: add some liquid smoke or smoked paprika to the recipe below
Spicy beef jerky: add some chili flakes to the recipe below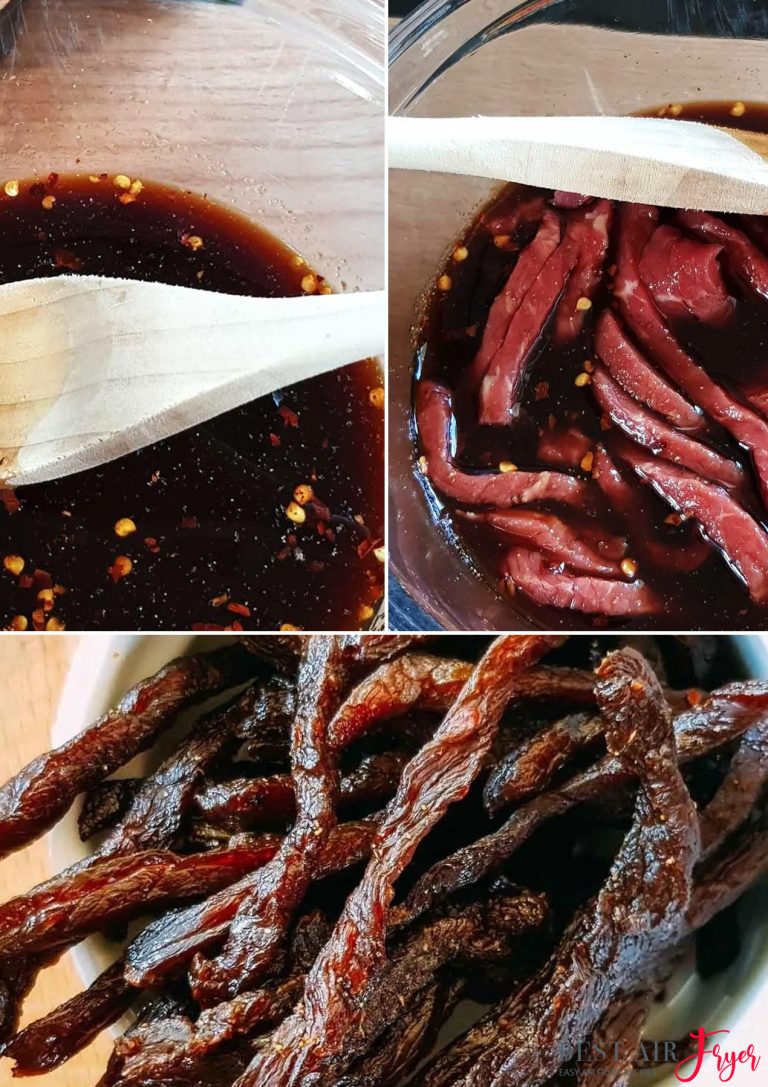 You can also make this jerky recipe in a regular oven, you just need to lay the jerky on a rack, or turn it often to ensure it dries out evenly.
Print
Air Fryer Beef Jerky
Air fryer beef jerky is the best way to make beef jerky at home. Simple and straight-forward, tasty and nutritious. And the best part? No dehydrator required.
Author:
Prep Time:

15 minutes

Cook Time:

2 hours

Total Time:

2 hours 15 minutes

Yield:

1

0

1

x
Category:

Snack

Cuisine:

American
1

lb thinly sliced beef steak (sirloin steak, round steak) [Note 1]
Marinade
½ cup

Worcestershire sauce

½ cup

soy sauce

1 tbsp

honey

1 tsp

onion powder

½ tsp

chili flakes, optional, or add more for spicy jerky
Instructions
Mix all the marinade ingredients together in a bowl.
Cut beef slices into strips or squares.
Add the beef strips to the marinade, ensure that all surfaces of the beef are covered by the marinade.
Cover the bowl and place in the refrigerator overnight or for at least 3 hours.
Remove beef from marinade and pat dry with paper towels.
Place beef strips in air fryer basket in a single layer – ensure it is not overlapping.
Air fry beef strips until completely dehydrated. Set to air fry at 210°F (100°C) for two hours, then check the jerky. If it is not completely dried out continue to air fry for 15-20 minute intervals until it is ready. It needs to reach 160°F/71°C [Note 2].
When the jerky is ready, allow to cool and store in an air tight container.
Notes
Beef should be no thicker than 1/4 inch thick. Partially freezing the beef can make it easier to slice.
Check with an instant-read meat thermometer to be sure.