Learn how to thaw turkey – 2 different ways! Includes a FREE printable turkey thawing chart to easily reference each holiday season.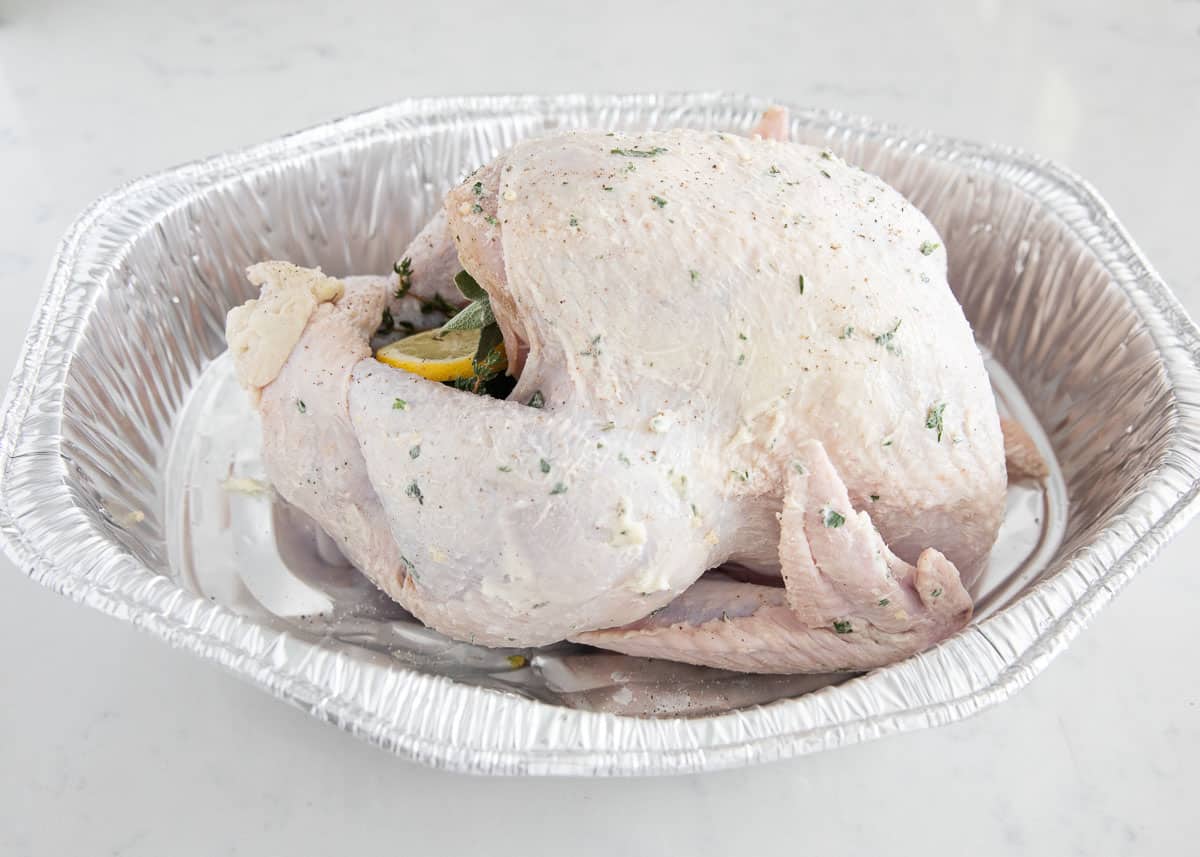 Safely Thaw a Frozen Turkey
It's that time of year to start thinking about your Thanksgiving turkey. If you've never cooked one before, you're probably wondering what the turkey thawing time is. But have no fear, you'll find all of the information you need to get started right here!
When making a roasted turkey or smoked turkey for your Thanksgiving menu, make sure you let it thaw in time before cooking! The last thing you want is to wake up on Thanksgiving morning with a rock hard frozen turkey. It happens to the best of us, but is definitely not ideal.
Today I'm going to show you how to thaw a turkey with two different thawing methods (in the refrigerator or in water). The refrigerator method is easier, but takes longer. Thawing a turkey in water requires a bit more work, but is quicker. Each way works great, so it all depends on what works best for your schedule.
Refrigerator Method
This is probably the most classic method for thawing a turkey. It's super simple and requires hardly any work. The hardest part is just remembering to put the turkey in the fridge a few days in advance. It does take a little longer than other methods, so always allow about 24 hours for every 5 pounds. For instance, a 20-pound turkey will take 4 days.
Instructions: Place the packaged turkey (turkey breast-side up) in a large roasting pan, a rimmed baking sheet, or tray. This helps catch any liquid or juices that leak out while thawing. Then place in the fridge to thaw completely (refer to chart below for total thawing time). You're now ready to make your favorite turkey recipe.
5 pounds: let thaw 1 day
10 pounds: let thaw 2 days
15 pounds: let thaw 3 days
20 pounds: let thaw 4 days
25 pounds: let thaw 5 days
30 pounds: let thaw 6 days
Thawing Turkey in Water
You can also thaw a frozen turkey with the cold water method. This method is a lot quicker, but requires more work and attention. You can place the whole turkey in your sink, a large pot, or a bucket of water nd set it inside on the counter or even in a heated garage. Allow 30 minutes of thawing time per pound of turkey.
Instructions: Before getting started, the turkey must be in a leak-proof package, original wrapping, or plastic bag (the raw meat should never touch the water). Place the wrapped turkey in the sink or bucket, then submerge with cold tap water. Change the water every 30 minutes so that it doesn't get too warm.
5 pounds: thaw for 2.5 hours
10 pounds: thaw for 5 hours
15 pounds: thaw for 7.5 hours
20 pounds: thaw for 10 hours
25 pounds: thaw for 12.5 hours
30 pounds: thaw for 15 hoursv
Print
How Long to Thaw a Turkey
Plan ahead to make sure your turkey is ready on the big day. Here are 2 surefire ways to thaw your turkey in time. This recipe is based on a 5-pound turkey, so please refer to the chart for time needed for the size of your bird.
Author:
Prep Time:

0 minutes

Cook Time:

0 minutes

Total Time:

0 hours

Category:

Main Dish

Cuisine:

American
Instructions
Refrigerator Thawing Method
In a large roasting pan, a rimmed baking sheet, or tray, place the packaged turkey, breast-side up – this helps catch any liquid or juices that leak out while thawing.

Place in the fridge to thaw completely. This size bird will thaw in 1 day, but refer to the chart or see notes for total thawing time based on the weight of your turkey.
Water Thawing Method
Before getting started, the turkey must be in a leak-proof package, original wrapping, or plastic bag (the raw meat should never touch the water).

Place the wrapped turkey in the sink or bucket, then submerge with cold tap water. Change the water every 30 minutes so that it doesn't get too warm.

Thaw completely. This size bird will thaw in 2 1/2 hours, but refer to the chart or see notes for total thawing time based on the weight of your turkey
Notes
Refrigerator thawing method times:
5 pounds: let thaw 1 day
10 pounds: let thaw 2 days
15 pounds: let thaw 3 days
20 pounds: let thaw 4 days
25 pounds: let thaw 5 days
30 pounds: let thaw 6 days
Water thawing method times:
5 pounds: thaw for 2.5 hours
10 pounds: thaw for 5 hours
15 pounds: thaw for 7.5 hours
20 pounds: thaw for 10 hours
25 pounds: thaw for 12.5 hours
30 pounds: thaw for 15 hours