Frozen chicken wings in air fryer! Yes you can make the best wings right in that counter top device popularly known as the air fryer. It comes out delicious and perfectly cooked, with juicy interior and crispy skin all that's left is to decide the best dipping sauce to use for this easy side dish or appetizer.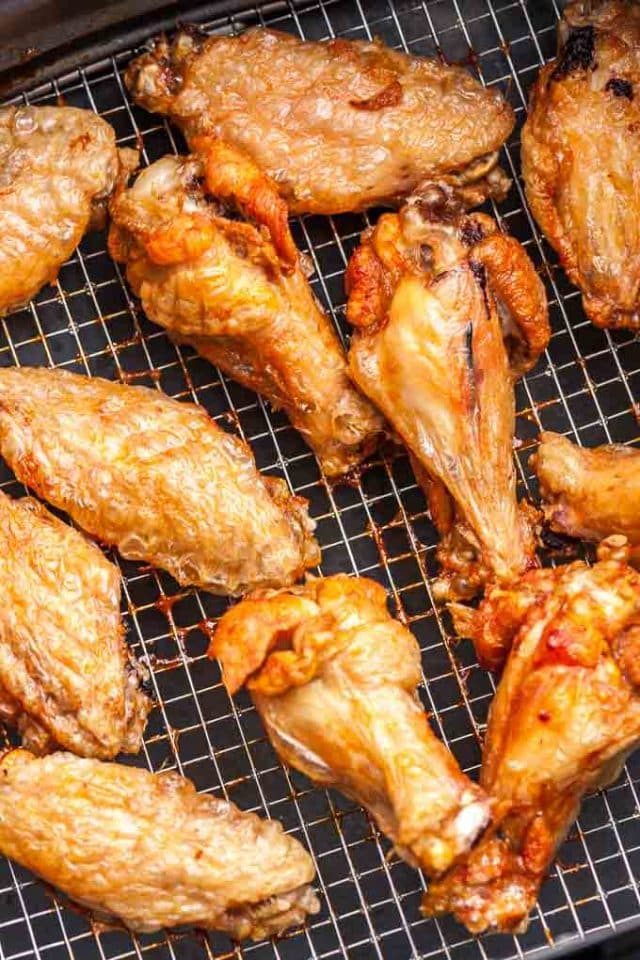 Ingredients
2 lbs Frozen chicken wings
1 teaspoon garlic powder
½ teaspoon ground black pepper
1 teaspoon salt
1 cup Sauce of choice like bbq sauce or Buffalo sauce (see blog post for more suggestions)
1 Tablespoon oil
Instructions
Place frozen wings in the basket of the air fryer. Set temperature to 400°F / 205°C and cook for 10 mins to defrost.
Transfer thawed wings to a bowl, drain the liquid that accumulated in the bottom of the air fryer basket.
Add the oil, garlic powder, black pepper and salt to the wings. Toss to coat.
Return seasoned wings into air fryer basket and air fryer at 400°F / 205°C for 10 -15 mins or until internal temperature reaches 165°F / 74°C. Remember to flip wings half way through cooking time.
Toss in sauce of choice and enjoy.
Notes
Cooking time is based on my Cosori air fryer. Air fryer brands cook differently so keep an eye on the chicken wings as it cooks and adjust time accordingly.
Size of wings may also affect cooking time.
No need to thaw before cooking.
Do not overcrowd the basket. Cook in batches if needed.
You need to drain the liquid that accumulates in the bottom of the air fryer as indicated in the recipe to ensure the chicken crisps up nicely.