Love Roast chicken? This easy air fryer Christmas Chicken Recipe will be your new best friend. It's quick and flavorful with tender juicy meat. Perfect for all occasions including Thanksgiving and Easter celebrations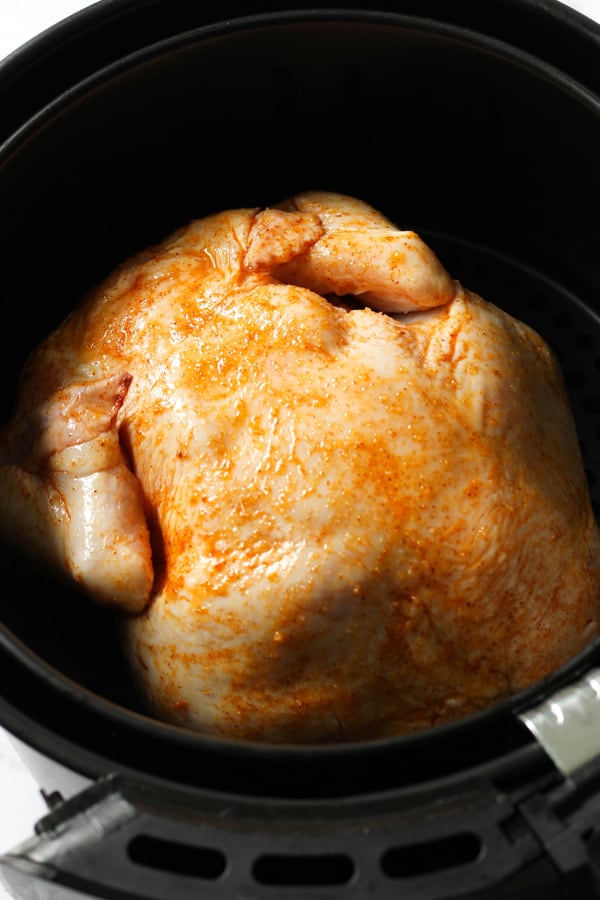 Ingredients
1 (3.5lbs / 4lbs) whole chicken giblets removed
1 Tablespoon olive oil
2 Tablespoons butter ;melted)
1 teaspoon garlic powder
1 teaspoon onion powder
1 teaspoon oregano
½ teaspoon rosemary
1 teaspoon basil (substitute with parsley)
1 teaspoon salt or more to taste
½ teaspoon white pepper or black pepper
1 teaspoon paprika
For chicken cavity
1 small onion quartered
2 Sprigs fresh Rosemary
½ orange or lemon
Instructions
Prep the chicken:
Pat Chicken dry, mix oil and butter, salt and spice blend to form marinade.
Marinate the chicken:
Brush marinade all over chicken and inside the cavity of the chicken. Let chicken marinade for 30 mins to an hour.
Fill the chicken cavity:
When it's time to cook, get chicken out and stuff the cavity with onions, fresh Rosemary and orange or lemon wedges. Tie the legs with a string if you like.
Air fry:
Place whole chicken in air fryer breast side down and air fry at 360°F / 180°C for 40 mins then flip over and cook for another 15 mins or until internal temperature reads 165°F / 74°C on an instant read meat thermometer.
Serve:
Transfer cooked chicken to a plate, cover with foil and let it rest for 5 mins before carving and serving