Air fryer Baklava is one of the best-ever air fryer desserts you'll come across! Layers of crispy filo are filled with assorted nuts and topped with salty sweet syrup. With this easy recipe, you can make perfect homemade baklava.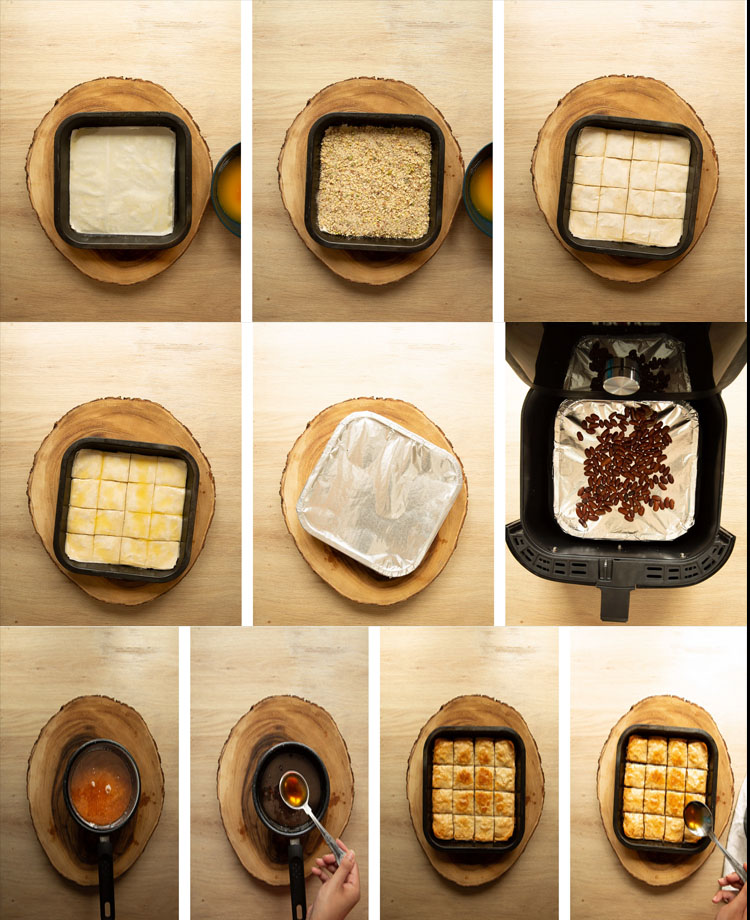 Equipment
1 Air fryer
1 baking dish 8″x8″ square
1 Sharp knife
1 small pan
1 silicon brush
Ingredients
Pastry
▢ 20 sheets phyllo pastry also known as Filo pastry
▢ 100 grams butter unsalted
▢ 40 ml vegetable oil or sunflower oil
▢ 1 cup nuts walnuts, pistachio, almonds and cashews
▢ ½ teaspoon salt
Salted caramel syrup
▢ 50 grams light brown sugar or demerara sugar
▢ 150 ml maple syrup
▢ ½ teaspoon sea salt
▢ 225 ml water
Instructions
First make syrup by mixing all the salted caramel syrup ingredients in a pan.
50 grams light brown sugar, 150 ml maple syrup, 1/2 teaspoon sea salt, 225 ml water
Bring it to boil and simmer for 5 minutes while stirring constantly.
Leave it aside for later use.
Then make filling by placing nuts and pinch of salt in the food processor. Pulse them until they are coarse. Leave it aside.
1 cup nuts, 1/2 teaspoon salt
Now cut the phyllo pastry according to your baking tray/pan size. Simply by putting a tray over the pastry and cut it with the sharp knife.
20 sheets phyllo pastry
Don't throw away sides of the pastry, will use in the middle layer of the baklava.
Heat butter in a bowl in microwave or in the pan over stove top.
100 grams butter
Add vegetable oil and mix well.
40 ml vegetable oil
Grease the tray base by brushing the butter oil mixture.
Layer two sheets of phyllo and gently brush it up with butter oil mixture.
Repeat this until you have laid and brushed up 10 pastry sheets in total.
Then a layer of coarse nuts filling.
Now layer the pastry with cut phyllo and brush up with butter mix.
Again do a thin layer of nuts.
Then final layer of 10 phyllo sheets.
Slice the baklava pastry in whatever shape you like using a very sharp knife.
Pour the remaining butter and oil mixture over the cut pastry.
Preheat air fryer at 190C or 375F for 5 minutes.
Cover the baking tray with kitchen foil but don't press it.
Put some beans on top.
Air fry/bake them for 20-25 minutes or until nice and golden.
Once done pour the syrup all over the baked baklava.
Let the syrup soak at room temperature for minimum 3 hours before serving.
garnish it with chopped nuts and dry rose petals.
Notes
You can add up to 40 sheets of Phyllo pastry in the tray.
Make sure butter and oil mixture stays runny whilst brushing it. If it starts stiffen, just reheat in the microwave or on stove.
If using frozen phyllo dough, defrost the dough overnight. To make sure it's fully defrosted, put the phyllo dough in the refrigerator overnight. Then let it come to room temperature.
Keep phyllo pastry covered all the time with a clean moist but dry kitchen towel.
Order of assembling baklava
10 buttered phyllo sheets
1/4 cup nuts
10 buttered phyllo sheets
1/4 cup nuts
10 buttered phyllo sheets