This super easy Air Fryer Roast Beef is one of the easiest roasts I've made to date. Similar to my 3 Packet Roast Beef this beef roast is succulent, tender, and juicy, and the all-in-one seasoning makes this savory, beefy roast even BETTER!
Making your roast beef in the air fryer succulent and tender IS a possibility, my friends! With the right tools on your side, you can enjoy a juicy air-fried roast beef in no time!
AIR FRYER ROAST BEEF
So you've asked yourself, can I actually make a whole roast beef in the air fryer??
I know, I wondered the same as well, so I tried it. The first few times were learning experiences (can you say overdone???), but I think I have it down now that it turns out perfect every time!
The Secret To Getting This Roast Beef Right The First Time
What's the secret to getting this roast beef perfectly done in the air fryer? My loves, it's a THERMOMETER. It's pretty much a must-have to air fry this roast perfectly.
Ingredient Needed To Make This Dish
Beef Roast – Wondering what type of beef roast to buy? The best idea is to buy something middle of the road that's tender but not crazy expensive. You CAN buy something top shelf if you want, and it's a good idea to watch your sales, and buy on special. Here's a handy little list on the cuts of roasts to buy if you're not a hundred percent sure what to buy.
Montreal Steak Seasoning – I use this seasoning on everything! lol. Ok, seriously, I use it a lot. Especially on beef. It's a fantastic "all in one" type of seasoning that makes grilling, roasting, stewing, etc, easy and flavorful. If you don't have it, use your favorite seasonings to put on beef. Garlic, salt, pepper, onion powder, paprika, coriander, dried chili pepper, or cayenne pepper, are all options here.
Avocado Oil – If you don't have avocado oil
, feel free to use any other oil you have that has a high smoke point. Because we'll be air frying, the heat will make the oil smoke if it doesn't have a high smoke point. Coconut oil or any other vegetable oil is suitable. I wouldn't use olive oil as the smoke point isn't as high.
How To Make An Air Fryer Roast Beef
The very first step before you even start cooking is to start out with a room-temperature roast.
Yes!
Believe it or not, if you start out by trying to cook the roast right out of the fridge, it's cold throughout the roast and you could risk cooking the outside a lot more than you want trying to get the inside cooked to the temperature you're looking for. So, letting your roast sit at room temperature for at least 30 minutes before cooking is one of the best practices for making this beef roast recipe.
Next, let's season the meat. After patting the roast dry, take a tablespoon or so of cooking oil and rub the meat with the oil, all over. Then, season the meat all over as well.
While your seasoning the roast, be sure to preheat the air fryer to around 400°F (or as close as you can get it if your brand of air fryer doesn't quite reach that.)
Place the roast in the fryer basket. Place it FAT SIDE DOWN (if it has a fat cap) and begin air frying. This is the searing stage, and you'll want to leave it in there for 15 minutes to seal in those juices and start to develop that lovely crust on the outside.
Then, you'll CAREFULLY (it's hot so remember a good turning fork and protective mitts/gloves are perfect to use here) turn the roast over so the fat side is facing up now. Dollop some butter over the top and continue to cook the roast in intervals until you've reached your desired doneness.
Remove the roast when it's done to a cutting board and tent it with foil. Let the roast rest for 15 minutes while you clean up and get the other sides finished.
How Long Does Beef Roast Take To Cook In The Air Fryer?
This infographic below is a handy guide to gauge desired cooking doneness according to air frying time. However, nothing can beat using a digital or dial thermometer for more accurate results.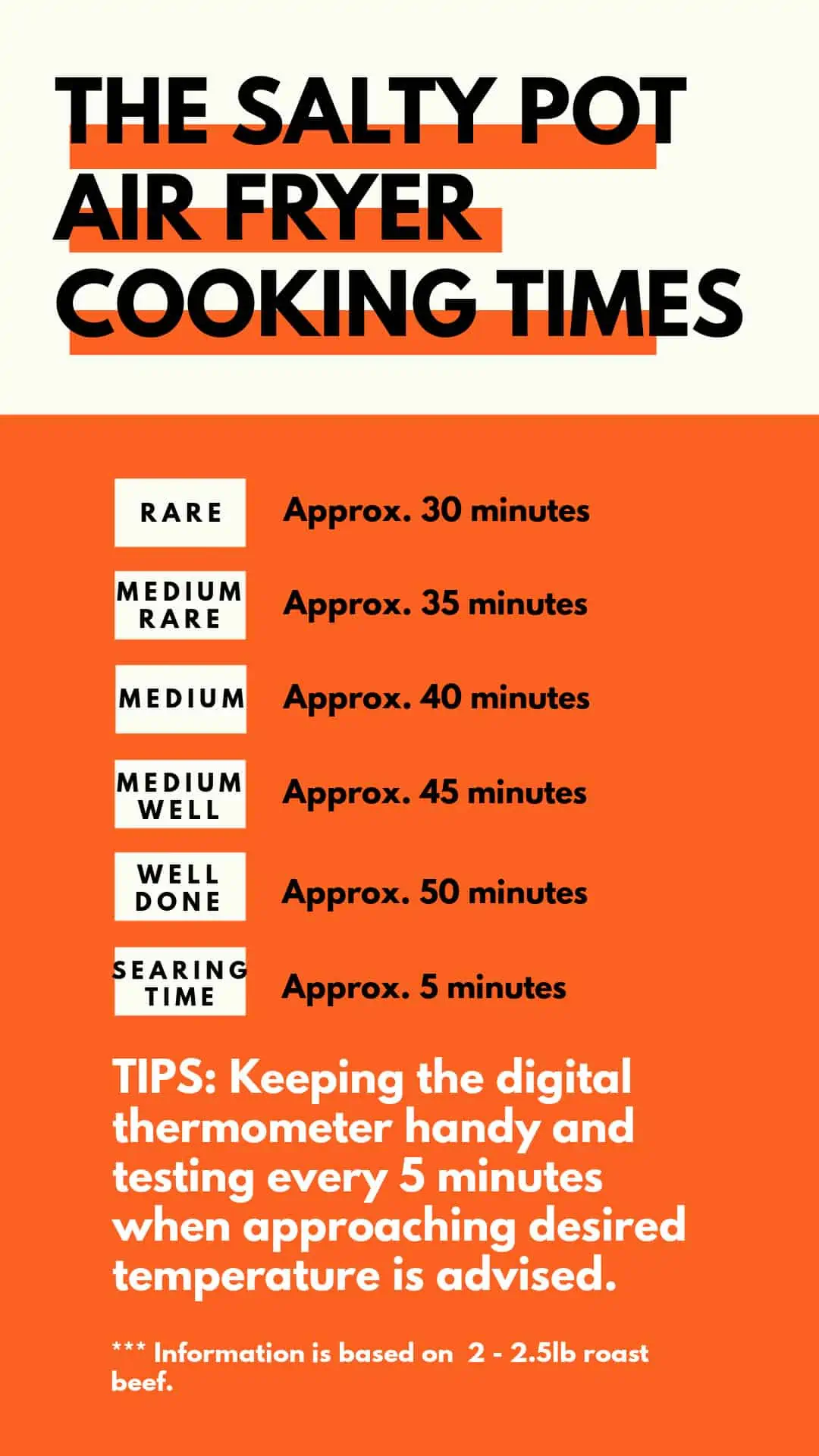 Can I Use Any Air Fryer For This Air Fryer Beef Recipe?
I used the air fryer function on my Ninja Foodi to air fry this roast, and I haven't tried roasting one in any other air fryer. I also have a Cosori Air Fryer and would feel confident making this roast in there as well.
Even though I can't speak for all air fryers, most air fryers work on the same premise, I would guess that if your fryer comes up to 400 degrees (or near to it), you'd be good to go.
Again, I can't stress enough the importance of having a good thermometer to get the job done right!
Print
Easy Air Fryer Roast Beef
This air fryer roast beef recipe is succulent and juicy with a nice seasoned crust. You won't cook a beef roast any other way!
Author:
Prep Time:

15 minutes

Cook Time:

30 minutes

Total Time:

45 minutes

Yield:

2

1

x
Category:

Dinner

Cuisine:

American
1

x 2.5 lb Roast Beef (I used a premium sirloin)

2 tbsp

Montreal steak spice

2 tbsp

Avocado oil

2 tbsp

Butter
Instructions
Begin to preheat your air fryer for 15 minutes at 400 (see notes)
Drizzle the avocado oil over the roast and distribute the oil evenly all over it.
Sprinkle the Montreal steak seasoning on all surfaces.
Flip the roast around in the bowl to get it evenly coated with the oil and spice rub.
Place the roast into the air fryer basket, fat side down (if it has a fat cap).
Air fry the roast for 5 minutes at 400F temp on all sides. (This is for searing the roast and developing the caramelization on the outside)
After searing all sides, reduce the heat to 325. Place the butter over the top and continue to air fry for 15 minutes per pound according to the size of your roast.
Continually check the internal temperature of the roast after every 15-minute cooking interval to accurately gauge internal doneness (look below in notes for time calculations.)
Remove the roast after cooking, tent with foil, and let it rest for 15 minutes before cutting..
Notes
For best results, I recommend letting the roast sit in the packaging, on the counter for about 30 minutes to an hour to bring it closer to room temperature. This will help you achieve a better roasting result on the beef.
Before seasoning, pat the meat as dry as possible with paper towel.
For a roast that's around 2 – 2.5lbs, here are the internal temperatures you can use as a guideline:
RARE: 125°F / 52°C
MEDIUM RARE: 135°F / 57°C
MEDIUM: 145°F / 63°C
MEDIUM WELL: 150°F / 66°C
WELL DONE: 160°F / 71°C
A good guideline to follow is testing the temperature at the thickest part of the roast. Also, insert the probe deep enough that it's approximately in the center of the roast and not near a bone, as testing near a bone can give an incorrect reading.
NOTE: If the roast you've chosen to air fry is a tenderloin, or in general, flatter than a regular roast, then the air frying time will be less than what's stated here as it won't take as long for the heat to penetrate to the center of the roast. Again, thermometers are your best friend in this case.